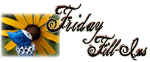 Click the button to find more
Friday Fill-Ins
links
Thank you
for hosting this great meme,
Janet
!
I have seen a lot of great literature memes in the Blogosphere, and I'm always amazed at how good people are answering them. I have gathered my courage to start practicing now. And...here we go!
1.
It's so good to have a place called
home.
2. My favorite thing for dinner lately has been
seafood
.
3.
If I got a dry cough, it sounds like
bark! bark! bark!
4. A nice long walk
to embrace the beauty of mother nature is always refreshing
.
5.
Life can be tough, so let's spread
some good news.
6. When all is said and done,
you should have done the best that you could
.
7. And as for the weekend, tonight I'm looking forward to
having some pleasant family time
, tomorrow my plans include
escorting my daughter to school
and Sunday, I want to
have some real-time off
!